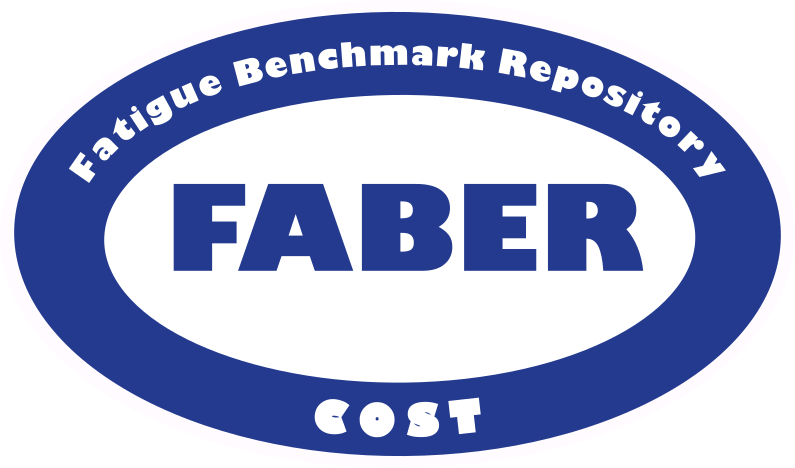 Quick access
---
FABER
FABER (FAtigue BEnchmark Repository) Project was established to join fatigue engineers and researchers who agree that the verification of various fatigue prediction models is essential, and who want to help us in reaching our goal. The goal is to build a repository, which allows the users to access quickly reliable experimental data usable for any validation/verification activities.
Currently, a third version of FABER project managed within the COST project was submitted on October 29, 2021. This means, we are waiting for the decision of COST agency (to be delivered on May 30, 2022) in this moment. If we succeed, the participation in the project will be open for anybody interested, so it is not late to join us, if the FABER goals seem reasonable to you. We are inviting all fatigue researchers and engineers who would be interested in joining in the project.
A shortened explanation, why your involvement is necessary and what it can bring to you follows in these three presentations:
| For engineers: | For fatigue solver developers: | For researchers: |
| --- | --- | --- |
| | | |
For a more extended reasoning, check this presentation: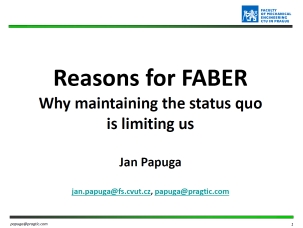 Or start to read here on p. 20: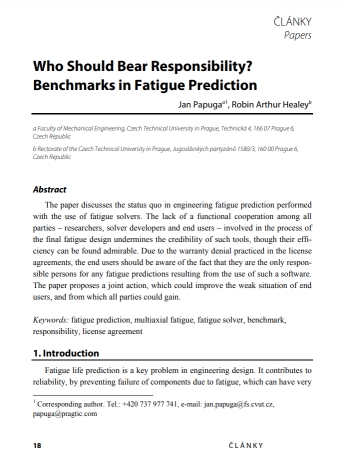 All the current activity is trying to establish something new, a body or movement which does not have any predecessor. To reach the goal in this embryonic phase, we opted for submitting the project as a COST Action. This decision brings along some advantages and some limitations. An extremely shortened synopsis of the rules can be found here: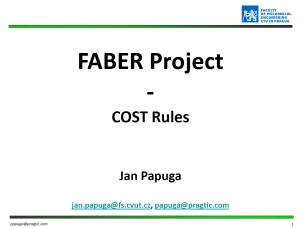 If you are new here and you wish to join us, the simplest way is to contact Jan Papuga. It is practical to to join our mail list (note that this is a different mail list than the mail list used for the WCFA workskhops and PragTic-related activities):

---
FABEST
FABEST is a spin-off activity of FABER. Originally, it is intended to be a world-wide challenge on providing the best possible fatigue prediction to the provided test setup. It is expected to be run twice per FABER 4-year duration. However, as FABER still did not acquired funding, we decided to proceed in a bit quicker pace, and we have already started the testing activity. We managed to purchase 1.4 tons of 42CrMo4+QT steel from one heat in the form of bars of 35 mm diameter. Since even FABER will not provide us any funding eligible for the experimental effort, the rules for joining FABEST are these:
Any member has to fund his/her participation by himself/herself as regards the manufacturing and experimental costs.
We are trying to keep the production at one facility to minimize the differences caused by production in various workshops, but this is a requirement open to further discussions.
Within the 2021/2022 campaign, we are focusing primarily on these topics within high-cycle fatigue domain:

Mean stress effect
Frequency effect
Size effect
Roughness/Residual stress effect
Homogeneity/Anisotropy effect

Before these topics are finalized, other more complex topics (multiaxial loading, notches, fretting, low-cycle fatigue, random loading...) are not prioritized
Any member has the right to publish the test results he/she achieved first by himself/herself, and only then the other members can use it in their own publications.
At the moment of writing (November 11, 2021), there are 15 institutions which joined FABEST activity. Feel free to contact Jan Papuga if interested in joining us.
---